Identifying Front Mudguards
If your Front Mudguard has the correct bracket for your model as shown below, no action is needed.
| | | |
| --- | --- | --- |
| Bracket | Models | Frame Numbers |
| | G4, G4i and G4i+ | Greater than 919335 |
| | G2, G3, G3+, G3C, GS, GX and GXi | Less than 919334 |
If you have purchased mudguard separately then it might be necessary to replace the Front Mudguard bracket.
To install the front mudguard you will need the following 3 parts. If a Front Mudguard and G4 is selected the brackets will automatically be pulled into the order.
| | |
| --- | --- |
| Part Name | ID |
| Front Mudguard | KKL-4363-3866-01 |
| G4 Front Mudguard Bracket* | KKL-4095-4589-01 |
| G4 Front Mudguard Mounting Kit* | KKL-4086-4590-01 |
*can be ordered separately if updating existing mudguards
Changing the Front Mudguard Bracket to G4
Using a 2.5mm Hex (Allen) Key undo the 2 bolts on the underside of the mudguard to remove the old bracket.
Install the G4 Front Mudguard Bracket, KKL-4095-4589-01
Remove the cap on the fork of the Gocycle using a 3mm Hex Key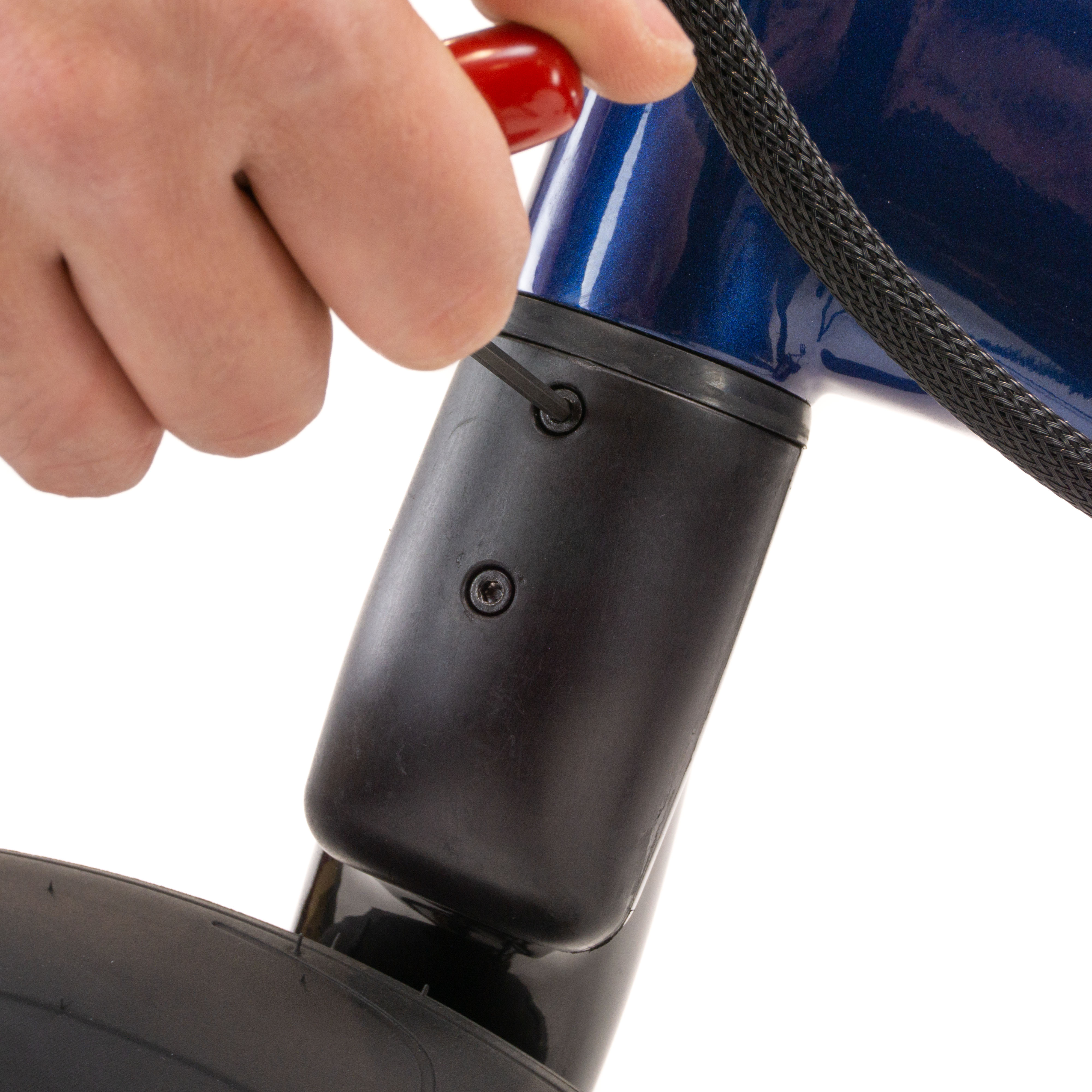 Install new shorter cap, KKL-4086-4590-01
Install Mudguard onto the fork using the bolts from the mounting kit and a 4mm Hex Key.
For and questions or assistance please contact us
Front Mudguard for G2, G3, G3+, G3C, GS, GX and GXi
To fit the front mudguard, Use the included 4mm Hex key to loosen but not remove the 2 M5 bolts underneath the front fork boot.
Place the mudguard bracket over the bolts and slide the bracket toward the rear of the bike.
Use the 4mm Hex key to tighten the 2 bolts and complete the front mudguard installation.
When removing the front mudguard only a ¼ turn of the bolts is required to be able to slide the mudguard forwards and remove.
Rear Mudguard - All models
Unscrew the rear mudguard mounting knob.
Align the mudguard to the two mounting points.
Replace the rear mudguard mounting knob over the mudguard and tighten until it is secure.
To remove the rear mudguard undo the mudguard mount knob, remove the mudguard and screw the mounting knob back onto the Gocycle.
Mudguard Compatibility
All Gocycle models are compatible with the Mudguards (Fenders).
To install the Front Mudguard on the G4, G4i and G4i+ the bracket must be replaced.
Out of the box the Mudguards or fenders will fit Gocycle G2, G3, G3+, G3C, GS, GX and GXi.
Some earlier G2 models will need an extra bracket. If in doubt, please contact us through the support site.
For Gocycle G1 the bracket will need to be removed from the front mudguard and affixed directly under the front fork.
Buying Gocycle Mudguards (Fenders)?
You can buy mudguards (Fenders) for your Gocycle at our webstore or via your nearest Gocycle dealer.